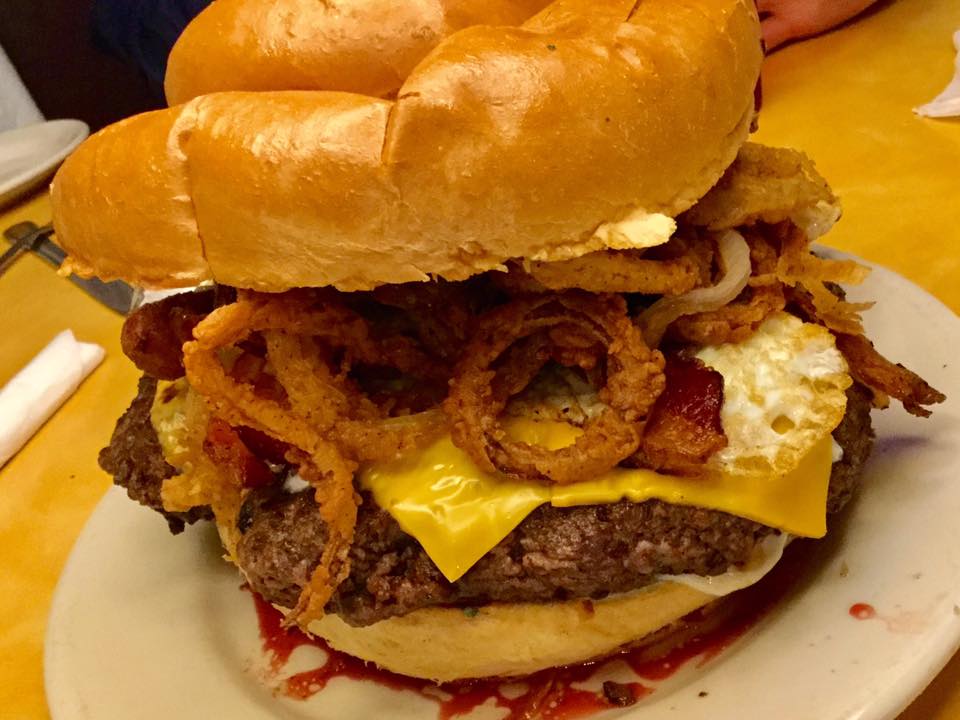 "Who doesn't love beer, burgers and A DOG?" he asks. "That's it!"
That is exactly the concept of Lucky's Burger & Brew, a family-style restaurant with pet-friendly patio founded by Ernie Geyer, his wife Diane, and executive chef and general manager, Ted Lescher. Ted's responsible for the beer and burger, the Geyer's for the dog. In this case it's Lucky, a golden retriever who is the inspiration behind the dining establishments and often can be seen on one of the three restaurant's patios making sure diners — and the canine companions — are having a great time.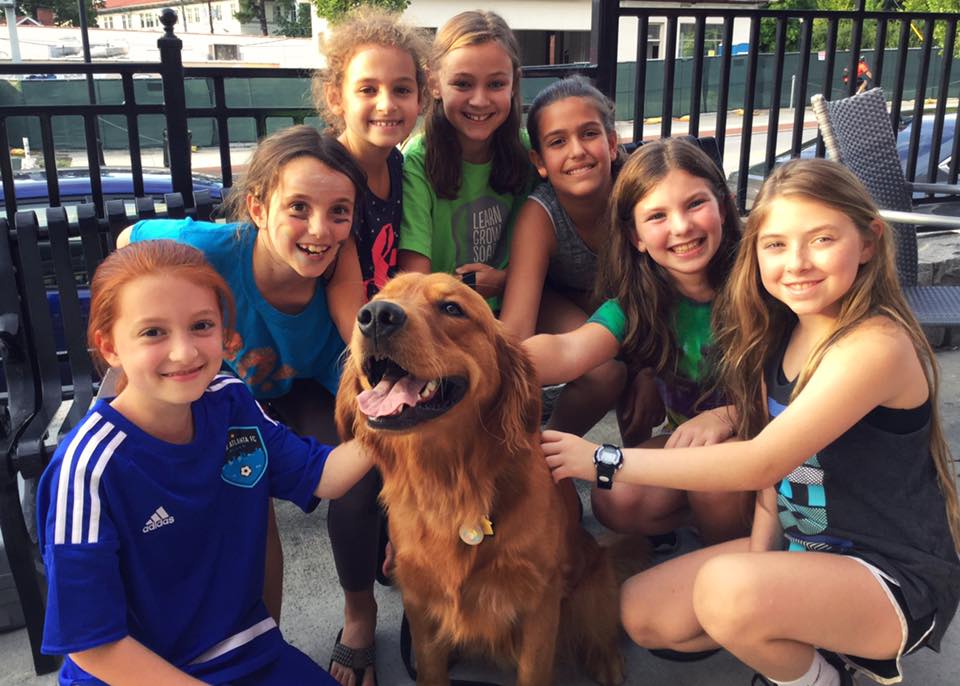 THE LUCKY'S CONCEPT
Of course, it's easy to have a great time at Lucky's. It starts the minute you walk through the door. The decor is homey, casual, welcoming and inviting. The concept was to become a neighborhood spot where people of all ages — young, elderly, families — could come and enjoy a reasonably priced meal and some companionship. "You get a lot of food for your dollar here. We want to be a neighborhood center. We also have great service with very little turnover, and we have very-VERY loyal customers." says Ernie.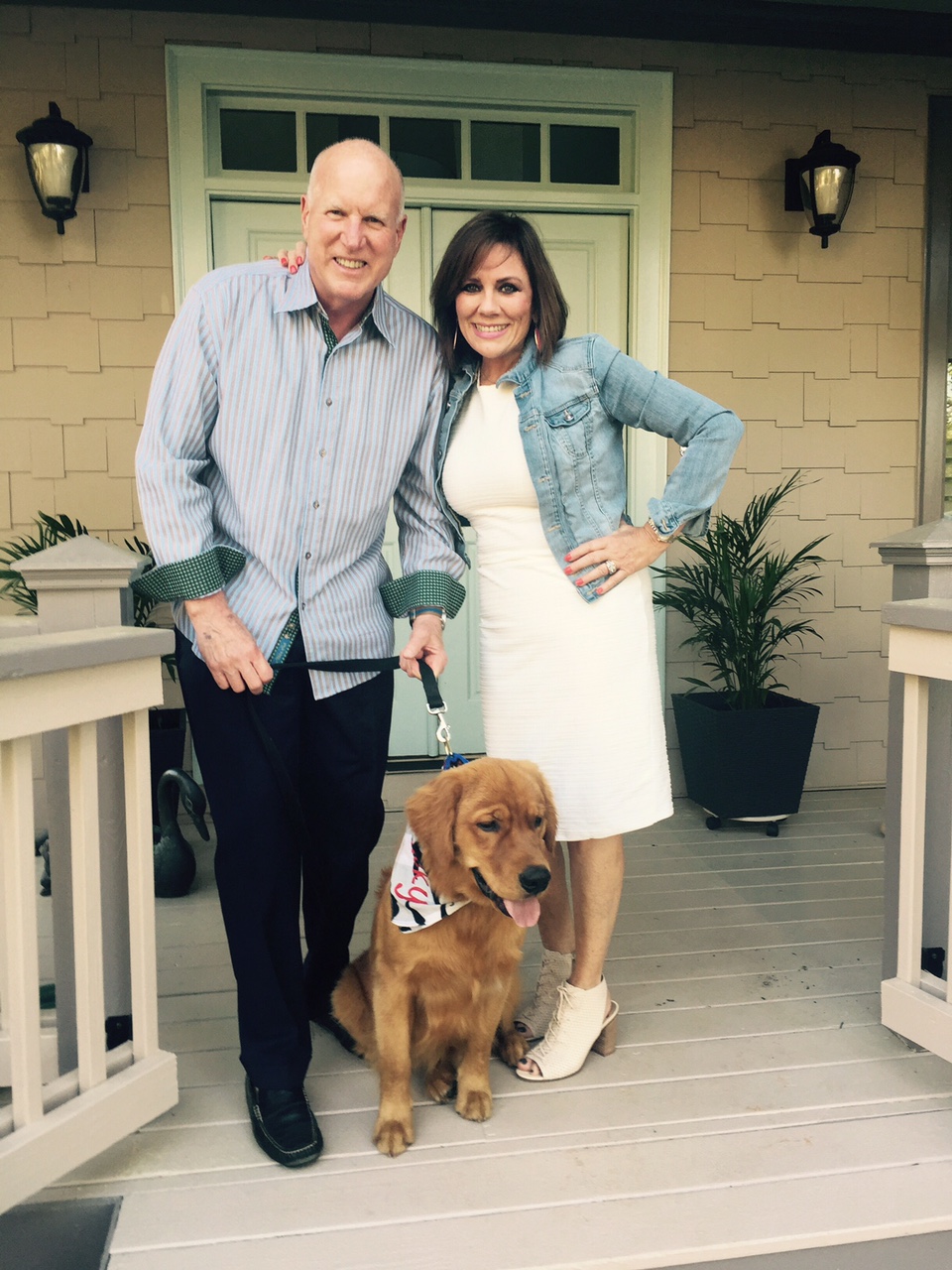 THE FOUNDERS:
The first Lucky's Burger and Brew opened in Roswell in 2013. Ernie, a well-known developer in Atlanta who had built many big name restaurants here, was downsizing his business — but not quite. As his wife Diane says, "He always has something to do, so he bought this dilapidated piece of property in Roswell and started thinking about his next stage in life."
One day he mentioned that he didn't feel well and was diagnosed with prostate cancer. A new treatment in Jacksonville caused him to move to Florida for several months and he brought Lucky 2 (There have been three "Lucky" dogs to date) with him. Lucky and Ernie went everywhere. He would go to the hospital for treatment and leave Lucky with the guard outside the hospital. Eventually, Lucky was invited inside not only to cheer up Ernie but the other patients as well. Lucky became a part of the hospital's family and was a treasured friend to children and adults alike. After all, who doesn't smile when you're petting a golden retriever?
THE CHEF:
After he treatment, Ernie returned to Roswell and was, in Diane's words, "feeling lost." However, Ernie's mind was back in business. He decided to turn that rundown lot in Roswell into a pizza restaurant. "I built a lot of restaurants and knew a lot of people in the business," he says. "And, I always wanted to open up my own place."
He called up his good friend Ted Lescher, who was the executive chef at The Grape at the time, which was closing coincidentally. "Ernie wanted to do a pizza concept and I told him that if you don't get the pizza right, you're screwed and said I didn't want to get involved. A month later, he called and said 'How about burgers?' And, I said I could do that and started getting the menu together." They all agreed they wanted a restaurant where people could come in at least once a week and enjoy themselves and have a good meal. They also agreed that not only would it become a neighborhood place but they would be very active in the neighborhood and host charity events. And they wanted it to have a pet-friendly patio, which all dogs can come out with owners and be part of the 'pack'.
And that is how Lucky became the official mascot. But he's so much more. Chef Ted used the dog theme for his menu. "I started putting the menu together and then associated them with different dog breed names.
Such as the German shepherd (topped with triple cream cambozola and candied bacon jam); the Boxer (topped with Boursin cheese, caramelized onions and Dijon mustard) and the Mixed Breed is topped with Lucky's famous buffalo sauce and blue cheese. They have produced many award winning burgers, including Lucky's Georgia Dawg Pounder, first prize winner 2 years in a row at The Bud and Burger Challenge.
Chef Ted agrees that they're not re-inventing the wheel with its hamburger concept but "We just make them better than anyone else. I've been cooking for 25 years and I've been putting recipes and ways to make food delicious in my back pocket. I love being able to do what I do because it's immediate gratitude. With other careers, like being a lawyer, you might have to wait months to see how it turns out. With me, if you don't love what you're eating, I can fix it right then and there and you will be happy. I like being able to do that and I like that we developed the concept with the community in mind."
6 years later, Lucky's now has 3 well-established neighborhood restaurants in Roswell, Town Brookhaven, and newest location at Emory Village. All three restaurants host benefits and also make sure that even on non-event nights their customers have fun. They offer specials on beer, wine and food, host charity fundraisers and even promote fun events, including Lucky's Second-Cutest Dog Costume Contest. "People bring their dogs in all dressed up. Some of them are really terrible looking dogs but their owners love them and find beauty in something that others don't. I love how people respond to animals."
"We are so pro fighting cancer, so pro dogs, so kids," says Diane. "We wanted to be able to give back to the community, really get involved and make a difference." Today Lucky's is very involved in several charities including Adopt a Golden, the Humane Society, Angels Among Us as well as the neighborhood schools. Diane is personally involved with the Roswell Women's Group and the Drake House, which helps homeless women and children."
"Diane and I really do believe in helping and there are so many causes but we chose cancer and dog rescues. A little bit of promotion can make such a difference, especially with the rescues."
Ernie, Diane and Chef Ted are thrilled that people have responded to their love of food, hospitality, friendship, community service and dogs. "I'm telling you", Ernie finishes his thoughts, "There's nothing better than beer, burgers and a dog. And, if I don't know you're name when you come in the door, I will know it by the time you leave."