Fabulous Dogs Need Fabulous Things
Ashley Daniele Carestia | Fall 2016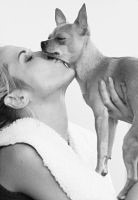 In a majority of households, those shiny presents under the Christmas tree or Hanukkah bush, are meant for the family pets. The holiday season is one we traditionally dedicate to giving, and it turns out most Americans extend that spirit to our furry four legged family members. Christmas is, unsurprisingly, the most popular pet-giving holiday, ahead of their birthdays and Valentine's Day according to Rover.com.
At the March 2016, American Pet Products Association's (APPA), Global Pet Expo in Orlando Florida, CEO Bob Vetere announced that the overall spending in the pet industry for 2015 came in at a record $60.28 billion. "The pet humanization trend is alive and well and continues to drive growth at the premium end of the market," said Vetere. "As millennials prepare to take the reins from the baby boomer generation as the primary demographic of pet owners, they stand to further develop this trend." Spending on supplies such as beds, collars, leashes, toys, litter, bedding, food and water bowls, clothing and other accessories is heading towards an estimated $14.98 billion for 2016, making it the third highest spending category, behind food and narrowing the gap on veterinary care spending (APPA, 2016).
Our pets love us unconditionally, so it's no surprise that we treat our posh pets like members of the family and give gifts.  While some dogs are happy with just the wrapping paper on their presents, watching them tear open the paper is priceless! Some of the gifts we have researched range from the must-have holiday sweaters and treats in their pets stocking, to extravagances usually reserved for humans, such as car seats, luxury carriers, and Swarovski studded accessories. Gifts average $36 to well over $100.
It can be difficult to decide what to get for your favorite pets and pet lovers — even if money is no object — because all we really want to give that perfect gift. Each year, owners can choose more and more pet products and pet gifts.  The good news is Bark Fifth Avenue has you covered. Whether it's in our Buckhead boutique, on-line, or with one of our complimentary personal shoppers, we will make sure you find the ideal gift.
Top five new products & couture items we deem fabulous for this year.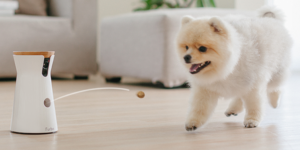 Furbo
World's Best Treat-Tossing Dog Camera
An all-in-one dog sitter that includes a camera, treat popper, barking alerts, night vision, and more.  The smartphone app controlled interactive camera lets you see, hear, talk, play and give treats to your pet when you're away.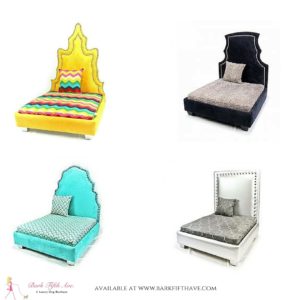 Pawllure
For the sophisticated and elegant four-legged child. These beds compliment the décor of your home, bringing luxury to the next level. Your fur babies need a spot to retreat to; a place to lay their head, somewhere soft and comfortable to call their own. These beds are elevated enough to keep a bit of distance between a cold floor and your pet. (available at Bark Fifth Avenue)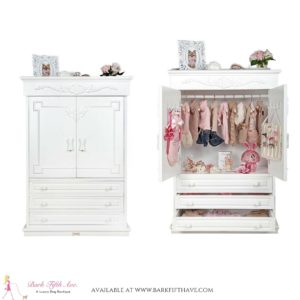 Shabby Armoire
A super chic wardrobe to guard all our little ones' the clothes and accessories. Made entirely in Italy solid wood decorated with beautiful friezes. A unique piece of equipment for your perfect home to store all the fabulous things and keep them in perfect order.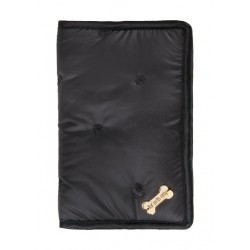 Passport
The passport cover for your classy jet setter. Keep important vet documents and other for travel, or just shopping.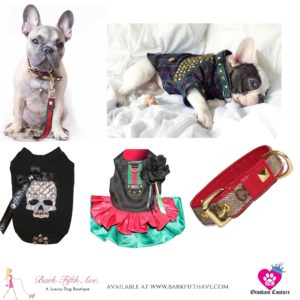 Orostani Couture
High-fashion designer outerwear created exclusively for dogs. Orostani Couture creates a one-of-a-kind glitz and glam creations that have turned many a head—and tail. We got to sit down with designer Olga Yuditsky to discuss trends for this Fall/Winter 2016 and some of her favorite designs.  "Leopard print, denim, shearling, schoolgirl tartan prints, hoodies, leather studded harnesses, and skull themed pieces" are currently trending.  Her most popular holiday gifts for pets? Of course it is nothing but fabulous. Olga says,   "The Gucci monogram classic horse bit harness with red and green tartan ruffle skirt, and the Gucci collar and leash sets."