Roadie is the 'ultimutt' workplace
By Laura J. Moss
Photos by Alex Ryan and Anna Mitchell
Roadie Inc., a company that uses an app to connect goods in need of delivery with drivers heading in the right direction, is changing the way people transport items from one location to another. The team behind the app works out of an Atlanta office that has truly gone to the dogs.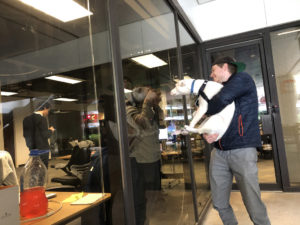 On any day of the week, visitors may encounter a variety of pups, including Henry, a 5-year-old Great Pyrenees who's one of Roadie's most beloved employees.
"Henry has been a working pup since 2016," says Will Walker, an enterprise marketing manager who adopted the dog from the Madison Oglethorpe Animal Shelter four years ago. "His office hours have varied over time, being as frequent as every day, but right now he comes in once or twice a week."
When he's on the job, Henry can often be found lounging along well-trafficked paths where he stares down fellow co-workers until they stop to pet him. "He's very adamant that everyone who passes gives him a pat, and he'll hop up to follow anyone who doesn't until they give him proper attention," Walker says.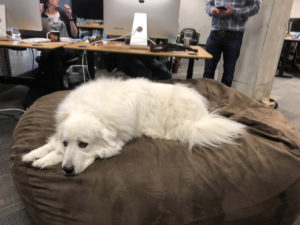 If he's not begging for pets or napping under a desk, odds are good Henry is participating in an important meeting. "Henry is the dog of the people here," Roadie Content Manager Anna Mitchell says. "He's hilariously unattached to his owner. It'll be 3 o'clock in the afternoon, and someone will pipe up asking where Henry is. Thirty minutes later, a conference room door opens and out comes Henry along with the group of folks who were just in there."
But Henry isn't the only four-legged employee who's helping things run smoothly. From poodles to pit bulls, at least one pup is around to offer head scratches, accompany workers on a pleasant stroll around the courtyard or bring a bit of joy to the day-to-day office activities, especially around the holidays.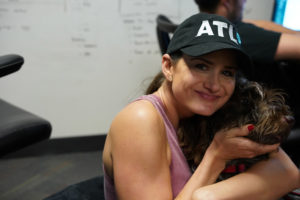 "The most memorable moment with Mullins in the office was when I let her open her Christmas BarkBox in the office while all of us watched," says Roadie Account Manager Kate Babington, whose 6-month-old pit bull/boxer mix is a regular at the office on Fridays. "It's always such a fun time when Mullins opens the box at home, so I was happy to be able to share that with everyone. She loved ripping the box open and finding the toys and treats inside, and I think everyone in the office loved it even more."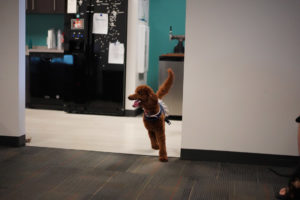 While the human employees enjoy the 9-to-5 canine companionship, the office dogs also benefit from Roadie's dog-friendly policy.
"I am just really grateful that I can bring Mullins into the office," Babington says. "She is a rescue pup and has pretty severe separation anxiety, so it's nice to not leave her at home all of the time. It has also been so great to let her socialize with everyone. She has really gained a lot of confidence from coming to the office."