Written by Cherese Cobb
Photos courtesy of Nebo
Nebo, a marketing and advertising company in Midtown, bills itself as a "human-centered agency built for a digital age," but its team of strategists, creatives and technologists also apply their passion and storytelling abilities to fight for animals that can't fight for themselves.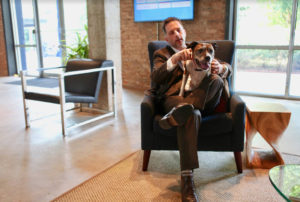 Nebo was started as a reaction to the industry's hire and fire culture. "People are looked at as clicks, impressions, conversions and downloads," says Nebo co-founder Brian Easter. Nebo isn't about blasting people with 4,000 ads per day or just dollars and cents. "No one lies on their deathbed and thinks, 'Wow, I ran this awesome campaign in 2013,'" he says. "We're all part of this world. It's our collective responsibility to make it better."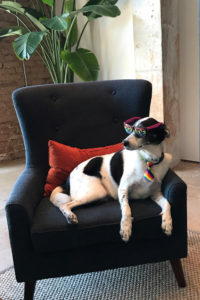 In 2019, the company is renewing its Rescue Pledge that spreads adoption awareness and stands against commercial pet distribution by taking on factory farming where hellish conditions for animals are the norm. Though team members don't get paid for animal advocacy, it's something everyone believes in. On employee volunteer days, staffers pitch in at local rescues and shelters. "Once, we took a half day to run a Christmas party for PAWS Atlanta," Easter says. "Dogs and cats sit in the shelter roughly 23 hours per day." Dressed in Santa hats, Nebo employees played with dogs in the shelter's gated yard and tossed tennis balls, squeaky toys and handed out biscuits. They entertained the cats with toy mice, feather wands and snuggle sessions.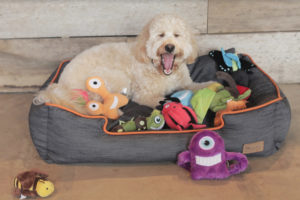 Whether they're climbing trees to rescue kittens or scooping up a stray at Octane Coffee — both have happened — the employees care in tangible ways. "If we find an animal, we take responsibility; typically a company leader or Nebo as a company will pay for all of its medical needs," says Easter. The adopt-and-rescue culture was partly inspired by Cami, a 10-year-old American Staffordshire Terrier. In fall 2008, her owner kicked her out of the vehicle and left her near Nebo's parking lot, where she was found whimpering underneath a car. President Kimm Lincoln coaxed her into the office with peanut butter and crackers.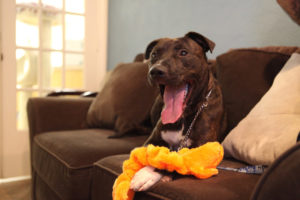 Easter loved her immediately and adopted her. "She's the sweetest dog that I've ever had," he says. "The worst thing she'll do is give you too many kisses." Though she doesn't come to the office as often these days, she paved the way for the agency's nearly 100 employees to bring their more than 30 dogs and cats to work in rotation.
The office's pet-friendliness is evident. Dogs Molly and Quaid lounge in teepees, on couches and occasionally in their owners' office chairs. They chew and drool on environmentally-friendly toys made by Pet Lifestyle and You. "There's a treat area where Kimm and I sit. I think all of the dogs know. They come visit us multiple times per day," Easter says. Though the dogs sometimes scare delivery people, they help give Nebo staffers a collective sense of love and purpose.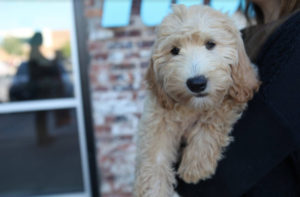 Nebo
1000 Marietta Street N.W.
Atlanta 30318
800.908.6326
neboagency.com
Facebook: @NeboWeb
Twitter & Instagram: @neboagency