Written by Laura Moss
Decatur resident Julie Thompson never intended to become a self-proclaimed "bona fide crazy cat lady," but her life changed in 2010 when she stumbled across a gray tabby kitten. She took the tiny feline home, named her Lily and introduced her to her 14-year-old dog. The two became fast friends.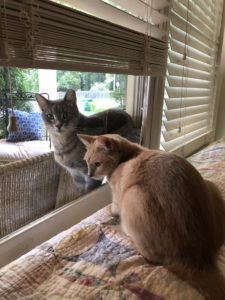 Three years later, a feral cat had a litter of kittens in Thompson's yard, a pivotal moment that not only led to her second cat, Scout, but also made her aware of the numerous feral felines in parts of Atlanta. This was Thompson's introduction to Trap-Neuter-Release, or TNR, a program by which feral cats are trapped, spayed or neutered, and then released to reduce feral cat populations over time.
"I ended up TNR-ing the mom and caught all the kittens and found them homes," she says. "Scout was the last one. I had no intention of keeping her, but she grew on me. She only weighs 6 pounds, and I call her my 'sour patch kitty' because she can be super sweet or quite feisty for her tiny size."
Now that Thompson shares her home with two photogenic felines, it's no surprise that she couldn't resist photographing them, and soon, she set up an Instagram account, @lily_and_scout, to share their adorable antics with the world. Today, these Decatur kitties have amassed more than 17,000 followers across the globe.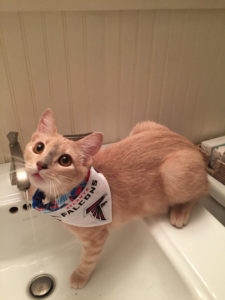 "I am not sure why the account grew so quickly, but I have loved every minute of it," she says. "I have met people from all over the world. We now exchange Christmas cards and even have a 'Secret Santa Paws' at the holidays that is organized by an account from France. I have met several people locally, and we've had meets-ups to visit cat cafes, go to a cat circus and even an ancient cats exhibit at a museum."
Thompson's involvement in the cat community also taught her more about TNR efforts, and soon she was trapping cats in other parts of her neighborhood and taking them to LifeLine Animal Project to be spayed and neutered. Today, she manages two feral cat colonies on her street, and that's how she her feline family grew again in 2017.
"Dusty was also found in my yard, all alone," she says of the buff-colored kitty. "I would see him fly across the yard early in the morning while I was feeding my 'resident' ferals. I finally caught him after two weeks. I wasn't going to keep him, but I fell in love. He is a complete character and adds a lot of life to the house. He loves to drink from the sink and chase his sisters."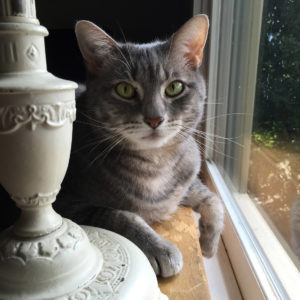 Today, Lily and Scout's Instagram account is also populated with pictures and videos of Dusty, as well as photos of the numerous other cats Thompson cares for, and her feral felines have garnered countless fans of their own.
"I have learned so much about the feral cats in our communities, and it is so rewarding to be able to help them out," she says. "Finding the Instagram 'cat community' has also been an amazing experience and something that I never saw coming."