Rock For Rescues
Milton, Georgia: April 28, 2018
As Styx lyrics go, "It's a good feeling; it's a rock 'n roll feeling."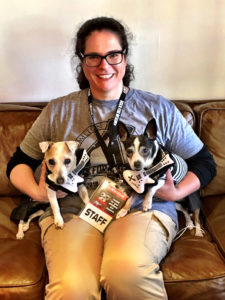 Rock For Rescues, a new free, community street festival combining the love of music and animals, took place April 28 in Milton, north of Atlanta. With food and beverage concessions on site, attendees were entertained by a variety of local bands, including A Slow Boat to China, Pony League, The Chip McGuire Band and Linnie & Amy Joy. The event ran from noon until 6 p.m. Tax-deductible donations and proceeds benefited 501(c)3 nonprofit animal rescue organizations, including Furkids Animal Rescue and Shelters, Pets for Vets, Canine CellMates, Pilots N Paws and Special Equestrians of Georgia.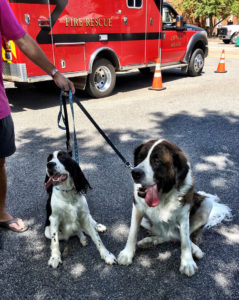 Rock to the Rescue, a pet rescue awareness organization founded in 2001 by Styx guitarist Tommy Shaw and REO Speedwagon lead singer Kevin Cronin, was a presenting sponsor, along with Atlanta Pet Life, of the organization's event. Coinciding with Rock for Rescues, Tommy Shaw and his dog, Peanut, were featured on the front cover of the Spring issue of Atlanta Pet Life.
PaWty Animals Lucy and Holly enjoyed meeting so many wonderful people and their family pets, and visiting the many food trucks and pet product vendors. All of us enjoyed shopping with Crabapple retailers and sampling delicious wares from food and beverage trucks and visiting with ponies and goats while rocking out to great music.
For more information about Rock For Rescues, please visit rockforrescues.org.
Woofstock
Suwanee, Georgia: May 5–6, 2018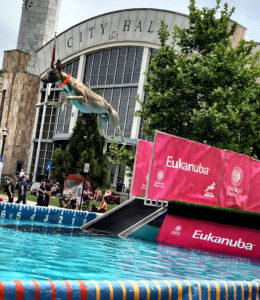 Woofstock returned to Suwanee for plenty of mov'n and groov'n at "Atlanta's Largest Pet Party." More than 40,000 attendees, including pups and their paWrents, joined event sponsor Star 94.1 and more than 50 nonprofit and rescue groups on May 5 and 6 at Suwanee Town Center Park. One of Atlanta GirlZ Club's favorite rescues, Angels Among Us, was there with a fun photo booth. Dogs, cats, birds, ferrets and pets of all kind were welcomed. Other entertainment included dog contests, Frisbee dog demonstrations and PaWty Animals Lucy & Holly's favorite, the "Air Dogs" dock diving competition. These canine athletes dazzled the crowds with their high-flying feats. There were inflatables for the kids, pet adoptions/ vendors, arts & crafts and much more, including food trucks and a beer garden (there's no BYOB in the park!). Lots of wonderful retail shopping and a variety of great restaurants are also located around the park. There truly was something for everyone!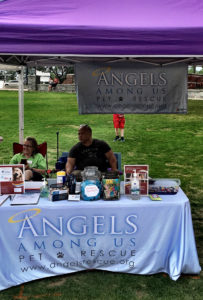 Air conditioned shuttles ran the entire weekend to take attendees back and forth to the event, which helped ease the traffic jam around the park as Woofstock continues to grow in popularity every year.
For info about Woofstock Smyrna, Sept. 29 and 30, please visit woofstockatl.com.
Atlanta GirlZ Club® | Lucy, Holly & Kathi Welch
Follow us on Instagram: @lucyandholly_atlgirlzclub