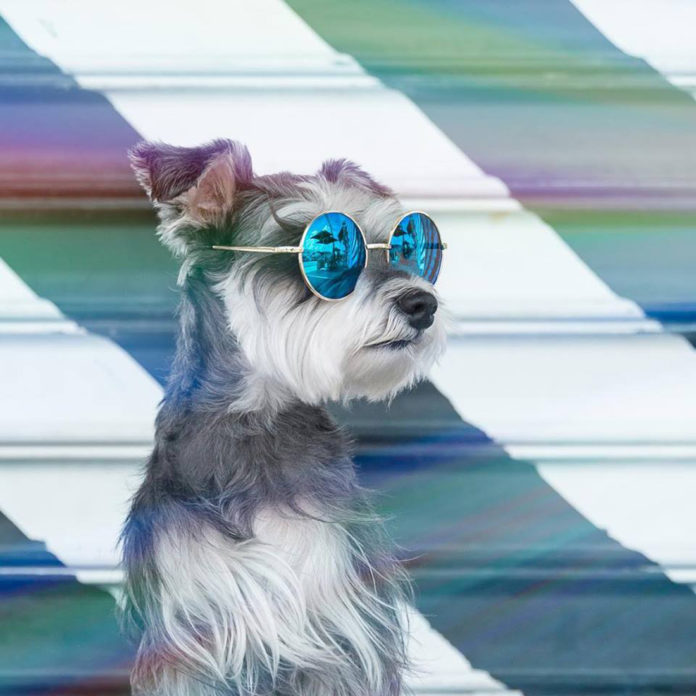 Written by Cherese Cobb
Photos courtesy of Chris Ha
If you scroll through Instagram on a regular basis, you're probably familiar with Remix the Dog. He's a miniature schnauzer from Miami.
"When I got him, I wanted to take photos of him without bombarding my friends, so I started his Instagram account," says owner Chris Ha. "Dogs of Instagram posted one of his photos, and from there, his account took off."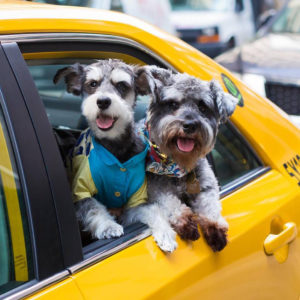 With 124,000 followers, he's Instafamous for his wardrobe, "a mix between his fashion idols Andy Warhol and Steve McQueen." He's often in thick-rimmed shades (non-prescription, of course), V-neck sweaters, seasonal costumes and chunky headphones that would play his theme song, "Boom" by Tiësto & Sevenn if they were actually plugged in.
Roughly 14 pounds, Remix wears clothes that are sizes 18 to 24 months. "Most of his clothes come from various pet clothing companies that send us their products to try, [like] Oh Pop Dog and Canada Pooch," Ha says. Remix also works with brands such as Milk-Bone, PetSmart and Happy Socks (his humans wear the socks), appears in their ads and incorporates their products into his Instagram feed.
Nicknamed the Dumbledore of Dogdom, the 4-year-old pupster, who turns 5 in October, is also known for his epically white beard and shaggy eyebrows.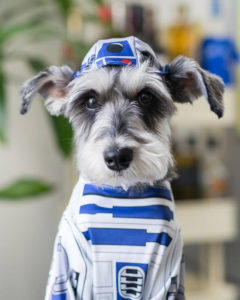 "We always try to wash his beard once a week because food and debris can get stuck in it," Ha says. "We wipe his beard with a towel soaked in warm water after every walk."
Ha says Remix has "looked like an old man from day one. I wanted to call him Dino and even had a dog tag with that name made in Japan. Being a music lover, I had a dream about getting a dog and calling it Remix. Naturally, I had to go with that name."
The runt of the litter, Remix is prone to the occasional grumpy streak, but remains a social butterfly at heart.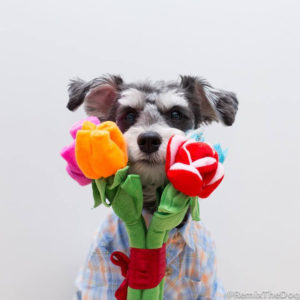 "When he walks into a room, he has to greet everyone and will get frustrated if you don't greet him back," Ha says. "He's our little explorer and a huge cuddle bug, too. Just don't wake him while he's sleeping — he doesn't like to be disturbed!"
When he's not munching on bananas and blueberries, playing capture the sock, or raising funds for charities such as WagAware and Dogly, you can sniff him on his website, remixthedog.com, or on Instagram @remixthedog.
Chris Ha | Photographer & Owner of Remix the Dog remixthedog.com
My Talking Pet: The Photo App That Lets Your Pets Do the Talking
Comedian Craig Shoemaker says, "My dog is half pit bull, half poodle. Not much of a watchdog, but a vicious gossip."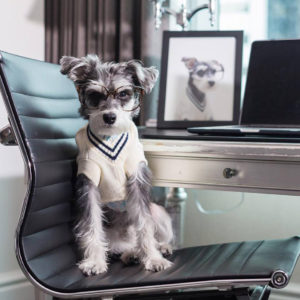 Here's betting that Shoemaker never guessed his canine could actually chatter. If you're not already killing enough time shooting angry birds at their green pig enemies, then download My Talking Pet, an app by WOBA media for Android and iOS. With an upload of your favorite pet's photo, you can — in a choice of hilarious voice tones — create custom messages straight from your horse's or hamster's mouth.
What friend or loved one wouldn't be charmed at the sight of your kitten quoting Shakespeare or a brown bear belting out your favorite ballad while wearing a sticker mustache, hat or necklace? You can also add My Talking Pet as a Widget to your lock screen, have your pet tell you the weather forecast and news headlines, or even get him or her to remind you of appointments.
While there isn't much of a tutorial, and some of the controls are fiddly, the $5 app doesn't have any ads or external content. It's like Instagram and Google Calendar had a baby, but without the cliché photo captions and hourly event reminders, which is why the app, featured on Ellen, became the most downloaded paid app in the Apple iTunes store and remains in the top 20 paid apps in the entertainment genre.
My Talking Pet | wobamedia.info
Instagram: @remixthedog @MyTalkingPet
Facebook: @remixthedog @MyTalkingPet
Twitter: @remixthedog @MyTalkingPet