Nonprofit Raises $1.25 Million for Animals in Need
Written by Cherese Cobb
Photos courtesy of Second Life Atlanta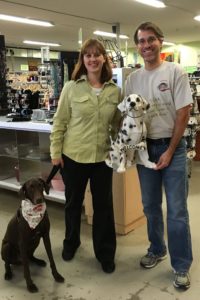 On Feb. 16, 2011, Tanya Mahrous and her husband, Toby Tobias, opened Second Life Atlanta thrift stores in Avondale Estates. The couple's dream was to give homeless pets a second chance by financially supporting the animals and the people who care for them.
Since then, the nonprofit has donated more than $1.25 million to 60 animal rescues and spay/neuter programs. Its grants have helped spay more than 7,500 family pets and strays. "We can never adopt our way out of pet overpopulation if they continue to breed. It's like digging in the sand," Tobias says.
They've also fostered more than 135 cats and kittens. "We're proud to have found homes for several FIV-positive cats, one eyed cats and numerous senior cats," Mahrous says. "We wanted to follow our passions and make a difference in the world for animals — without sitting in a cubicle for the second half of our careers."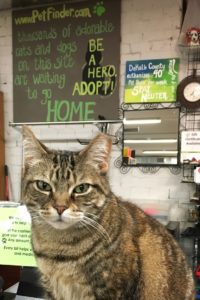 During her high school reunion, she accidentally walked into a similar thrift store in her hometown of Lincoln, Nebraska. She quit her job as an airline marketer and spent a year creating a business plan, researching the industry and shadowing a thrift store owner in Lincoln. She and her husband also started volunteering at animal rescues. "We realized how much they struggled to raise money and how hard the volunteers worked even with full-time jobs," she says.
Their inspiration was Lucky, a 75-pound Dalmatian that was just days away from being euthanized. Strong willed with Houdinilike escape artist skills, the 6-year-old dog had been returned to the shelter twice. He'd been deemed "unadoptable" by the staff, but a volunteer wouldn't give up on him. She asked the couple to foster him for a few weeks. "We took him to one adoption event. That was it," she says. "He was with us for 11 years."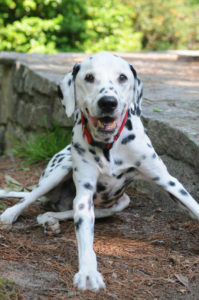 Lucky was designated the chief smile officer (CSO). He sat in the store's window and watched people walk by, while Mahrous manned the register by herself. "We joke that he kept us in business that first year," she says. They didn't have much in their store, but passers-by would see him and buy something. "He was with us for the first 11 months, and then his old body gave out," she says.
Three months later, the couple met Riley, a German Short hair Pointer mix, on a trip to visit relatives in Egypt. They fostered him because he was sleeping on a metal bed without a cushion in a shelter that had 400 free-roaming dogs. "We say his official breed is snuggle hound," she says. "He just won our hearts over and has become our new CSO."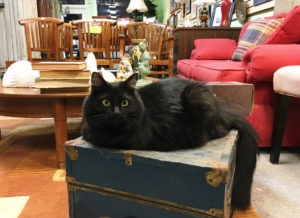 Eight years later, Second Life has 30 active volunteers and sells gently-used clothes, shoes, housewares, furniture, artwork, books and accessories at two stores next door to each other. While they don't consign, the owners get everything from antiques more than 150 years old to new designer items. On the third Saturday of every month, they also have a 40 percent-off sale storewide. A line of 15 to 20 people winds around the building before the doors open at 11 a.m. "It's truly like a treasure hunt at our stores," Mahrous says. "We get so many people telling us that we're their favorite place to shop."
Second Life Atlanta 
Tanya Mahrous and Toby Tobias
1 N. Clarendon Avenue
Avondale Estates 30002
678.974.5671
http://secondlifeatlanta.orgsecondlifeatlanta.org
Facebook:@secondlifeatlanta
Twitter and Instagram: @secondlifeatl