How an elderly beagle's story shows the importance of spaying and neutering
by Sarah Casagrande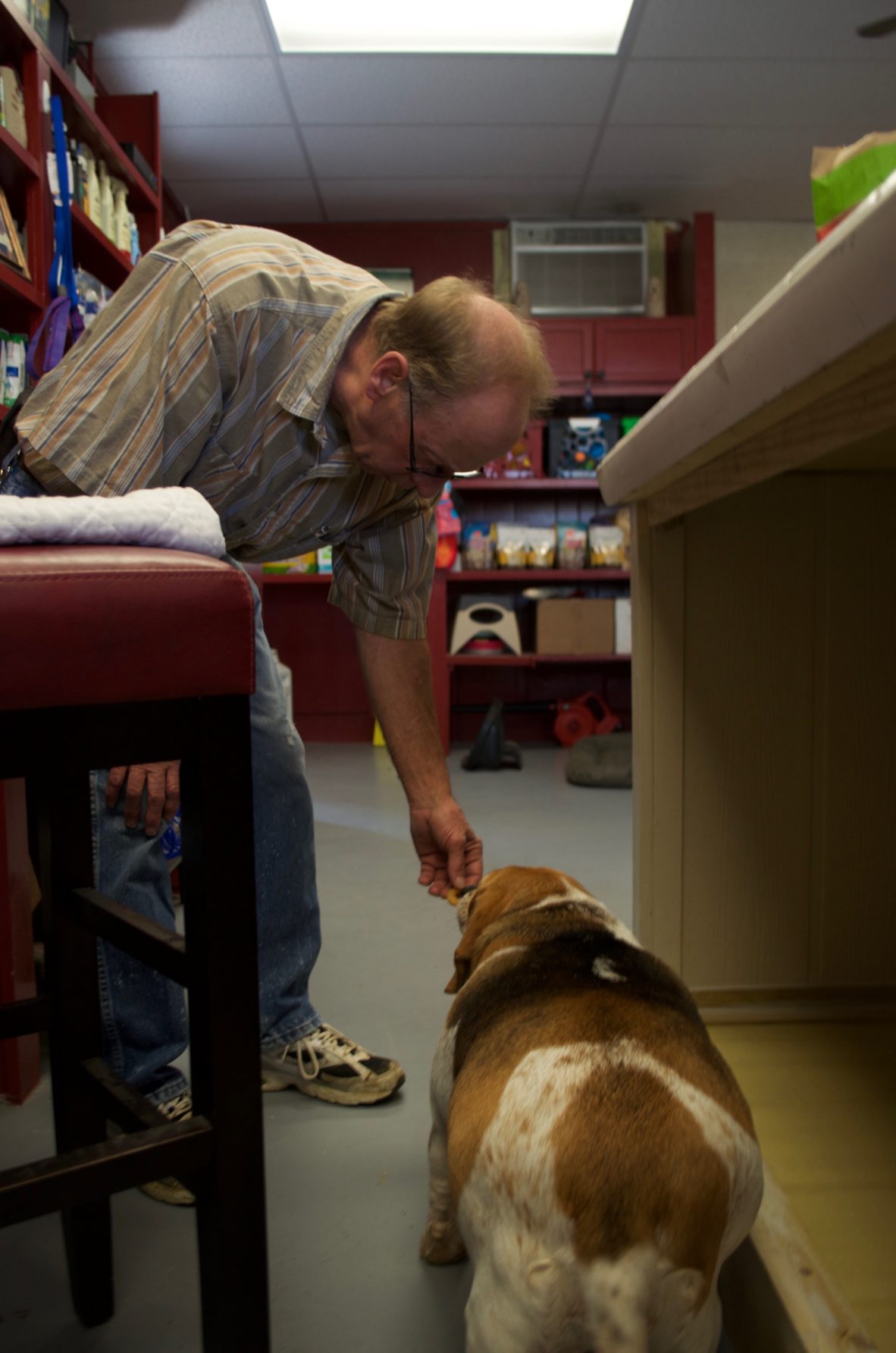 ROME, Ga. – Five days a week, psychologist Nick Adams can be found sitting behind a red counter at Misfit Haven Animal Rescue, a dog rescue in Rome that he founded in 2010. About a dozen yippy puppies are across the room from him, pawing at their chain-link pens. They cannot wait to be adopted in Rome or at one of Misfit Haven's events in Marietta.
At Adams' feet, behind the counter, is Betsy, a plump 16-year-old beagle that serves as somewhat of a mascot for Misfit Haven. If it was not for her loud snores, you would never know that she was under the counter. This small red building is her permanent home, and Adams believes that her story shows the importance of spaying and neutering dogs.
In February 2015, on a snowy day at Murray County Animal Control, Adams was pulling dogs from the kill shelter to take back to his rescue when a truck flew into the parking lot. In the back of the truck was Betsy, a stray 14-year-old obese beagle who was about to give birth.
Initially, Adams was hesitant to take Betsy in due to her condition, but worried about her having birthing complications and feared that she would need to be put down.
I said, 'Put her in the back of my truck'," Adams said. "By the time I got into Calhoun, I heard her first puppy. I knew she was gonna be in labor, but I didn't know she was that far along."
By the time Adams got back home, Betsy had already given birth to three puppies. She had six total, after having difficulty passing the last one. Adams called Dan Pate, a veterinarian from West Rome Animal Hospital, who helped Betsy have her last puppy via cesarean section.
"I didn't care how much money it was gonna cost," Adams said. "All I knew was that I was gonna take care of her."
Unfortunately, while Betsy recovered, none of her puppies survived past five weeks old.
"There was no one diagnosis for her," Adams said. "She was a 14-year-old dog. She was a stray dog being fed trash. Was her milk contaminated? That could've been what possibly killed the puppies."
Besides giving birth to six puppies, Betsy also had heartworm, congestive heart failure, and thyroid problems which caused her obesity. Overall, it cost over $8000 to save her.
"Until you meet Betsy, you don't know why she was worth it," Adams said.
A year later, she spends most of her time sleeping under Adams' feet or on her comfy dog bed in the back storage room. Despite her ordeal, she still brings joy to both Adams and his longtime friend and assistant Joel Vinson.
"She always greets me at the door when I come in," Vinson said. "She recognizes my red car."
Betsy even brings joy to the other dogs, and according to Adams, she seems to have a calming effect on them.
"With every litter of puppies, when we wean them, she will go in that puppy room and she will lay in there all day long on that concrete floor," Adams said.
Misfit Haven takes in primarily small dogs and dogs about to give birth. Last summer, Adams and Vinson took in 14 pregnant mothers from various shelters across Georgia. Adams said that his mission, besides getting dogs adopted, is to educate people on the importance of spaying and neutering. He believes that this would prevent cases like Betsy's.
"I don't know what wrong she had done to her," Adams said. "But for any dog to be obese and pregnant at 14 and heartworm positive, and to lose every puppy, she deserves to live."