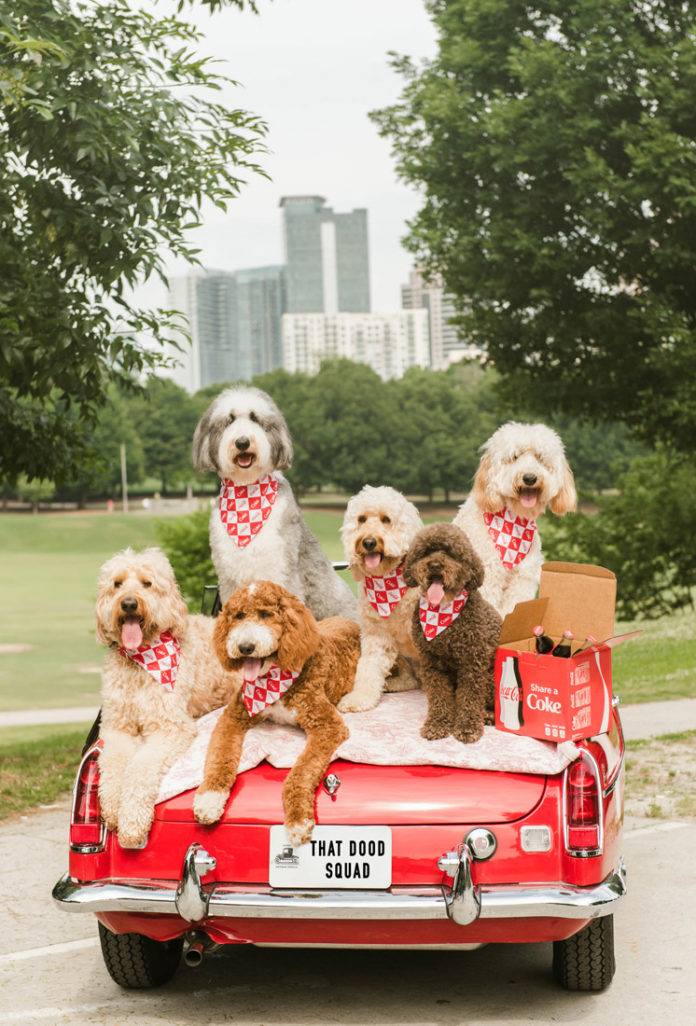 The Coolest Doods in Town: Meet That Dood Squad®
Written by Nicole Letts
Photos by Shelby Rae Photographs
If you stumble upon a 1967 candy apple red MGB filled with seven doodles, grab your camera! You've discovered That Dood Squad.® Comprised of dog-moms and their pups, That Dood Squad is one fetching friend group. What began as a dog meet-up quickly formed into lasting friendships. These owners and their pet pals are 36,000 followers deep on Instagram (@thatdoodsquad), have been featured on Nashville's "Pickler & Ben" and can be found cruising around Atlanta donning their cool-Dood attire.
The squad includes Addie, Cedar, Charlie, Charlie, Lola, Packer and Sheldon. Each dog is brimming with personality that photographer, Shelby Steckbauer, mom to Lola, stunningly captures. Often photographed with ear-to-ear grins, these doodles bring happiness to their little corner of the internet. "People come to our Facebook page every day thanking us for sharing some positivity," she says. The fandom began with one viral photo: a Christmas themed shot from a local tree farm. "It just exploded," Steckbauer says. Before long, Country Living, MSN, "Good Morning America" and even Reese Witherspoon were posting the photo. The doodles became canine celebrities as their faces graced some of the country's most well-known media sources.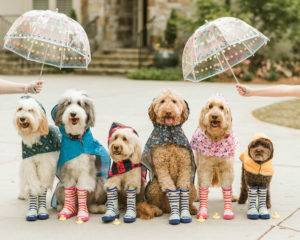 As That Dood Squad's official puparazzi, Steckbauer is responsible for the troop's adorable images — a process that can take several hours.
"We shoot monthly, and we try to get 12 looks within that photo shoot day," she says. If you're wondering how to get seven dogs facing the camera at the same time, Steckbauer explains the moms are full of patience and a lot of tricks. "We're talking to them constantly," she says. "Sometimes we have a little shaker when we really need to get their attention on us. If I can get one click when they're all looking, we move on!"
The goal? To snap any sponsored content, build a stockpile of photos for the squad's social media platforms and provide plenty of play time because, ultimately, it's all about the dogs having a great time.
"They know when they come to these shoots they're ready to work. But we also want to have time for them to play and get their energy out. That's the No. 1 thing.
We want them to have fun," Steckbauer says. It turns out that life is all about balance for everyone, including famous, photoworthy doodles.