BullsEye rescues local pit bulls and creates its own community
By Laura J. Moss
When Carla Anderson went to adopt her canine companion, Foo, from Clayton County Animal Control in 2012, she was told the puppy had been labeled a "pit mix," so only a rescue agency could pull him from the shelter. But Anderson refused to leave without the dog, so the shelter employee made a few calls and changed the dog's breed to "American Bulldog." Foo had his forever home.
"We walked out of the shelter 30 minutes prior to the vet arriving [to perform] euthanasia that day," Anderson said. "I was in awe at the close call and how devastating it would've been for him to die that day when there was an adopter standing in lobby, just 50 feet away from him. I decided that night I had to do something more, and the seeds of BullsEye had been sown."
Today, 7-year-old Foo is happy and healthy, and Anderson is executive director of BullsEye Rescue Inc., a rescue that pulls dogs labeled as pit bulls or pit mixes from shelters, trains them and finds them permanent homes.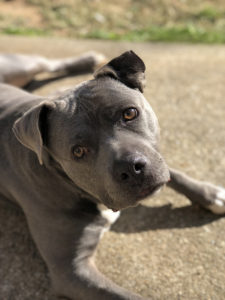 "We require all of our dogs to be crate trained, house trained, well-mannered on leash and well past their foundational training before they're available for adoption," Anderson says. "Because this takes time and, more importantly, qualified, knowledgeable fosters, we remain very small."
BullsEye's adult dogs average six to 12 months in foster homes, and once a dog is adopted, the organization continues to hold free monthly training classes for adopters.
"We believe in equipping humans to better help dogs," Anderson says. "Dogs, regardless of breed, arrive in shelters for a host of behavioral reasons, 99 percent of which are completely correctable if the human were trained how to lead a dog. We hope to break the cycle by training the humans."
BullsEye not only rescues dogs that would face euthanasia in shelters, but also helps change attitudes about pit bulls.
"Pits and pit mixes need special attention because society and the press give them special attention," Anderson says. "We rarely know if one of our dogs has any of the group of pit breeds in their lineage, but we always say that because society labels a dog a pit, we must protect them as such."
Myths about the breed abound: that they're more aggressive than others and that their bites are more fatal. But studies have found that these are myths. When the American Veterinarian Medical Association reviewed nine years of fatal dog bites in the United States in 2013, it concluded that breed was not a determining factor in the attacks.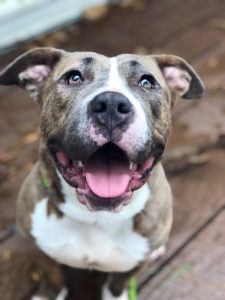 Additionally, a 2008 University of Pennsylvania study that looked at aggression in 33 dog breeds, including pit bulls, concluded that "the highest rates of human-directed aggression were found in smaller breeds."
Given the amount of time and training BullsEye invests in its dogs, as well as the stigma the organization is trying to combat, it's key that the organization consider potential adopters carefully.
"We have huge expectations for our adopters, such as participation in our private group, participation in ongoing training classes and regular updates with photos," Anderson says. "We are a community, and we find that adopters often become fosters and friends."
For more information, contact bullseyerescue.com